Mar 22, 2023
This is a true story.
My brother shared two photos of a parrot that flew out of the cage. Ashok, the parrot's owner was watching, as Babai (another resident) was trying to make the parrot fly back.
I wrote a poem inspired by the parrot's daring escape attempt. My daughter Adele drew the picture from the original photos.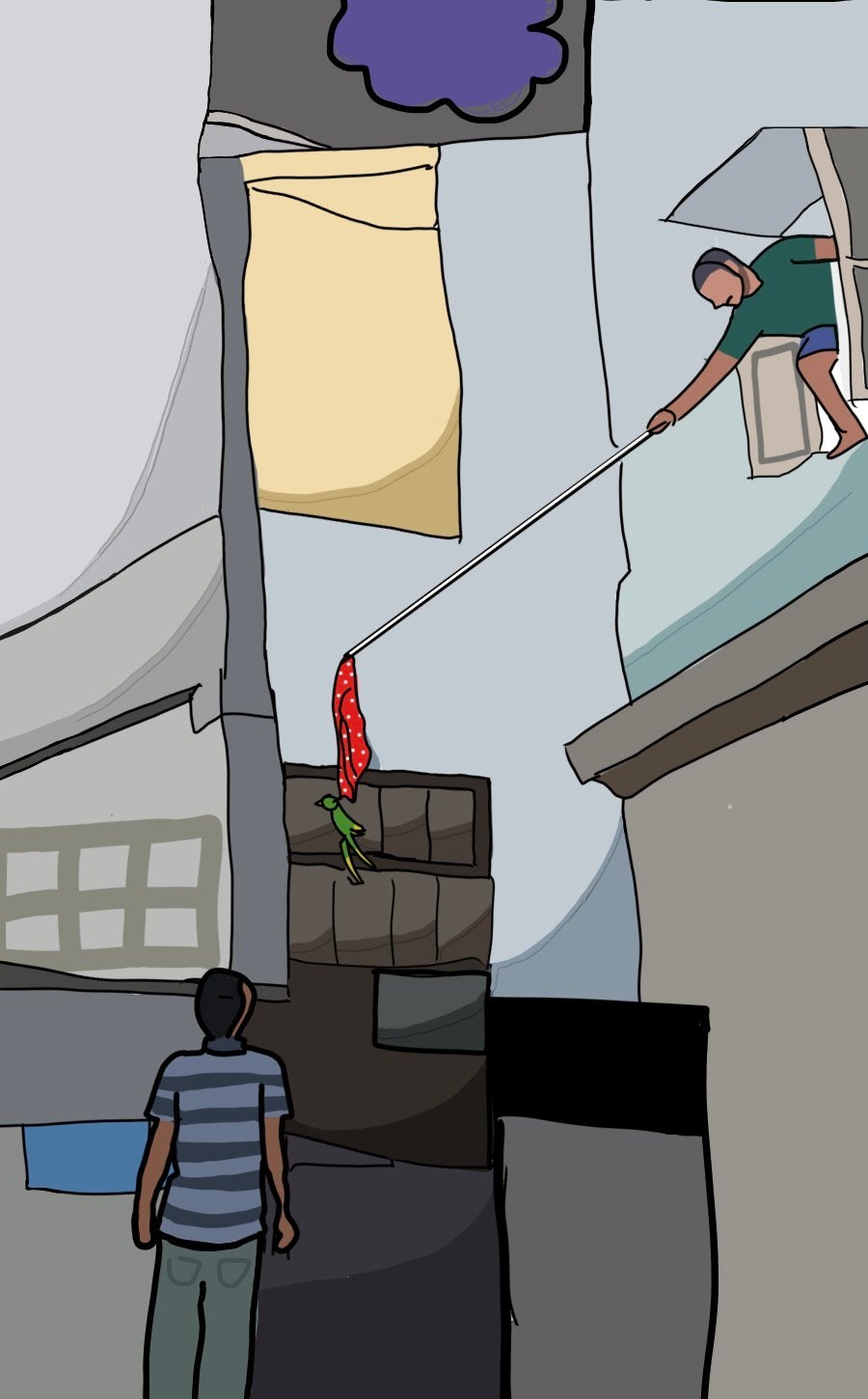 parrot wanted to explore the world
but babai brought out his merch
parrot watched babai's lungi unfurl
and it scared it off its perch
it wants to be free
it doesn't want the cage
but Ashok won't let it be
not at this stage
it tried through the dental window
but got lost inside
the screaming patient, though
got a short respite
now it's back in the cage
wondering when it will be
tired, but full of rage
when will it be free?
---
Mar 15, 2023
In 2004, I worked in Ernakumal, Kerala and made many train trips between my home in Kolkata and Ernakulam. I would take the Coromandel Express from Howrah (the closest train station to Kolkata) to Chennai, then switch trains to Ernakulam.
While in Chennai, I would visit my cousin Peter Tseng, then a chef at The Park, Chennai. A restaurant near his place served vegetarian thali on a big steel plate with various vegetarian dishes in small bowls and rice in the middle. The waiter would deliver the thali to the table, then return to put ghee on the rice and dal powder.
I had vegetarian thali before, but not the dal powder. The combination of the ghee and dal powder was delicious. Years later, I would remember it whenever I had vegetarian dal rice at home in Scarborough, Canada. On one of our Masala Dosa dinners at The Nilgiris restaurant on Markham Road, I noticed they were selling dal powder at the counter! I finally found my old friend.
Every time I eat dal rice (typically Wednesdays), I add ghee and dal powder to my dal rice to recreate the joy I first enjoyed in Chennai. The bag of powder lasted me a few years, but it was finally finishing.
Luckily, I met Peter on my recent India trip, and he gave me a gift bag from Chennai that included a bag of dal powder! He called the dal power "Podi" (the Tamil word).
---
Dec 30, 2022
I enjoyed drinking iced coffee this summer. It was my goto brew method (there were a few hot coffees when I was lazy or it was cool and rainy).
While I have been home-brewing hot coffee for years with the Aeropress, I only tried iced coffee last year. The cold brew method requires a dedicated accessory, more effort, and a long (overnight) brew time, so I didn't try it. Then I watched James Hoffmann's video on iced filter coffee, tried it, and enjoyed the result. It follows the Aeropress philosophy of easy, quick, practical, and great-tasting coffee.
My method is different in three ways:
Aeropress instead of V60
Smaller, stronger cup
Hot-water volume varies for precision
The James Hoffmann video uses a V60 brewer, but I use Aeropress. Aeropress is more effective for strong small cups because we can use the inverted method and steep the coffee longer for better extraction.
Instead of the 15g coffee:250g water ratio, I use 14g:200g from Tim Wendelboe's Aeropress recipe. He also has an iced coffee video that follows the same method as James Hoffmann, with additional commentary on coffee bean choices that work well.
My ice cubes don't weigh 70g. I watch the scale as I drop them in to get it between 70g to 75g. The hot water volume is then adjusted such that 200g is the total weight of ice, and hot water.
The more hot water we can brew coffee with, the more coffee we extract. James Hoffmann experimented with various ratios and arrived at 40% ice as a starting point. For me, 40% or 80g of ice was a bit more, as the ice didn't fully melt when I mixed in hot coffee. At 35% or 70g, it almost completely melts. I still have to stir it a bit.
Things we need:
Aeropress
Scale that can weigh at 1g or even better 0.1g increments
Kettle
Grinder
Coffee beans (light roasted, fruity)
Ice cubes
Tumbler (whiskey glass types)
Frothing Pitcher
One chopstick
Steps:
Boil water (to boiling point)
Measure 14g of beans
Grind medium-fine (Aeropress grind)
Invert Aeropress (link to the inverted method)
Pour in ground coffee
Put ~70g of ice into the pitcher
The next step depends on the actual weight of the ice. If the ice cubes weigh 75g, I pour 125g boiling water into the inverted Aeropress. For 73g of ice, it is 127g of water. This goal is to get exactly 200g of ice and hot water.
I stir the ground coffee and hot water with a chopstick to maximise the coffee extraction, and then press the plunger in as far as needed such that the water level is close to the top. I found it makes less mess this way when we flip.
Put a paper filter into the cap and lock it tight over the Aeropress. Let the coffee grounds and boiling water steep inverted for 1 to 2 mins (no need to time it).
Add 4g of sugar to the 70g of ice.
After steeping, flip over the Aeropress onto the pitcher (which has ice and sugar). I gently stir the Aeropress to capture the coffee grounds stuck to the rubber and then press the coffee through.
I remove the cap to push out the left-over coffee grounds with the filter into the waste bin, then rinse the Aeropress.
Stir the coffee in the pitcher with the chopstick to make the sugar dissolve properly (some sugar will be left).
I add 4 or 5 ice cubes into the glass tumbler to chill the coffee. These will melt a bit and dilute the coffee making the last sips weaker, but it is OK. I did think about getting one of those larger ice cube trays.
Pour out the cold coffee from the pitcher into the tumbler. By now, almost all the ice should have melted. There will still be some sugar left in the pitcher. I ignore it most of the time, but sometimes, I can't let it go, and add a bit of hot water, swirl it, and then pour that into the tumbler.
Clean up, and enjoy!
---
Aug 21, 2022
We went on a week-long road trip to New York City (NYC) from our home in Scarborough, Ontario. For the kids and wife, this was the first time in NYC. I had been there a few times for work.
Around spring this year, when we felt optimistic about travelling, there were many destinations on the list: Chill out at a beach resort in Cuba, the Dominican Republic, or Mexico; multi-purpose visit to Vancouver (wife has relatives there) along with a road trip to Seattle; and some others that I don't remember now. NYC wasn't even in consideration.
Vancouver-Seattle came out on top and I started looking at flights, ferry rides, car rental options from Vancouver to Seattle etc. Then we started worrying about the unpredictable COVID restrictions and if we would be able to freely travel etc. NYC entered the picture as a more flexible closer alternative, and that is what we ended up with.
There are different aspects to travel and food is one of them (for me) so I started making a list of things to eat. NYC is a popular place and there is plenty of food ideas from YouTube (including Mark Wiens), and Netflix shows (Somebody Feed Phil).
Here is the list I made:
Must try
Ivan Ramen
Xi'an Famous Foods (hand-pulled noodles)
Kat'z Delicatessen
The Halal Guys - Gyro and Chicken
All'antico Vinaio (sandwich from Florence, Italy)
Mercado Little Spain
Burger places
Clinton Hall
7th Street Burger
Bronsons Burgers
Peter Luger
Pizza
Di Fara
Lucali
Scarr's
Kesté Pizza & Vino
Angelo's Coal Oven Pizzeria
Bakery
Ferrara (Italian bakery in Little Italy)
Domninique Ansel Bakery
We got to four of them (Clinton Hall, Kat'z Deli, The Halal Guys, Xi'an Famous Foods). So we have to come back to NYC for the rest.
Clinton Hall chain of restaurants is famous for their Double Smashed burgers. After watching Statue of Liberty from the Staten Island ferry (twice), we walked to their Financial District restaurant. There was plenty of outdoor seating with games available to play (like big blocks of Jenga). It was hot and humid so we went into the sportsbar-styled indoor restaurant for the AC. The burgers were good and we enjoyed them. The fries were ordinary and disappointing. Unlike the happy-with-Maggi me, the wife's tastebuds have a wider range. She liked the burgers and enjoyed them too but she thought it was overpriced at $19.
Kat'z Deli is a legend that was featured in many YouTube videos and Somebody Feed Phil's Netflix show. There was a lineup of maybe 15 people outside but it moved fast. As you enter, they gave us two tickets and directed us to a specific counter (they are called cutters). It was busy inside but we got a table without waiting long. We got two sandwiches: pastrami, and beef brisket. The beef brisket was a bit dry but the pastrami was delicious. We loved it. Wow! Now I understand why Kat'z is so popular. At $25 per sandwich, it's on the higher side but for a good-sized, loaded sandwich, and that juicy flavourful pastrami, it was worth it. Two sandwiches were enough for the four of us.
The Halal Guys is one of many halal chicken and rice food carts popular in NYC. At $10 for a rice combo, it was inexpensive but filling and tasty. They gave us packets of white sauce to add to the rice. That sauce was the secret magical ingredient. We got two rice and one wrap and ate it at the hotel's dining area. While we were eating, someone passed us by and he said it looked yummy. It was. Their hot sauce was very hot but I added a little. While it was filling and enough, we regretted not getting one more rice combo. If we stayed in NYC longer, this would have been a repeat item for sure.
There is another halal street food cart that had a long line up but we didn't try it. It is called Adel's Famous Halal Street Food at West 50th & 6th Avenue. The line was at least 20 people long and didn't shorten for the 20 mins or so I was observing it. Something for the next time.
Xi'an Famous Foods is a Chinese chain restaurant famous for their hand-pulled noodles in spicy sauce. Since the kids didn't eat spicy food, we only got two. I have eaten many varieties of noodles in Toronto but I had never eaten this style. It was a different kind of spicy (cumin). The fresh hand-pulled was chewy and the only regret I had was not eating it at the restaurant right away. That would have been even better. Now I have to look for Xi'an styled Chinese food in Toronto.
Besides the ones on my list, we had other interesting and satisfying meals including a stone-baked pizza on the street near Watkins Glen State Park, Shake Shack burgers and their curly fries (under Brooklyn bridge), Union Street Pizza near Union Street station in Brooklyn (this was near our hotel), Whole Foods deli at Columbus Circle, and many sub-sandwiches from the deli close to our hotel.
Out of the ones that we didn't go to, Ivan Ramen was the one I was looking forward to and it is the one that's been on my list for NYC for years (I went through a ramen phase). I hope to visit NYC again for work or pleasure and will put Ivan Ramen at the top the next time.
---
May 21, 2022
These things happened today.
Adele
Adele: Dad, now my knee hurts.
Me: What about your thigh? Is it better?
Adele: Thigh doesn't hurt anymore.
Me: At least it's going down.
Parking
I stopped the car right in front of the busy Costco entrance to load things. I thought it would be a 2 seconds pit stop, but it took longer.
Dumb idea. All cars behind me had to go around.
One dude in a Mercedes Benz SUV yelled at me as he made the pass: What The F@&$ Man!
Returns
I dreaded returning the swimsuit at Costco on a Saturday morning. Instead of a 20 people queue, I was surprised to see only one person in front of me!
I asked the Costco guy walking by: "What happened? No lines?"
He said: "They knew you were coming."
---
Jan 15, 2022
Six years ago, I made a fundamental mistake and got 80 underexposed or blurry photos for my friendly neighbour Arun's birthday party. Last November, I was at the same house, with similar lighting conditions, and the same camera (his Canon DSLR), but this time for his wife Mangala's birthday party.
I did a better job this time. Very few photos were underexposed. I am writing these down if I ever get to do it again.
Settings I used:
External YongNuo flash was pointed at the ceiling, slightly angled forward
The white card on the flash was raised to reflect light to the faces
Flash was in automatic TTL exposure mode (I regret this)
Camera on Shutter Priority (Tv in the dial)
Shutter set to 1/100th
ISO set to Auto (it picked 400 for all the photos)
Aperture was Auto
Autofocus (9-points covered most of the view)
I made 117 photos on birthday eve when they set up the decorations. Then, another 200 pictures for the birthday party dinner.
The photos were first reviewed in FastRawViewer to decide which ones to reject. Photography Life has a good article on using FastRawViewer. I use a simplified culling process.
FastRawViewer is keyboard friendly:
Left/Right arrows navigate
x for Reject (moves into a _Rejected folder)
z for Zoom
p to show edges, fine details (indicates in-focus area)
The selected photos were then copied to an SD card and imported into the iPhone, where basic edits were applied in Darkroom app (something I learnt recently from Sean Tucker's YouTube video). From Darkroom, the edited photos were exported into Google Drive and shared.
Things to try next time:
iPad would be better than iPhone for Darkroom
Manual power mode in flash
ISO from 400 to 640 (half stop brighter)?
Fuji + 18 f2 + Flash?
---
Sep 19, 2021
Canadians will vote tomorrow to pick their next Prime Minister. I am not engaged at all. I didn't read news articles, watched the TV debates, haven't seen a single ad from any party. So when the current PM Justin Trudeau called the elections last month, and I found out the date was in September, I was relieved the Canadian campaign season is short (compared to the US). There are lawn signs and discussions about it among neighbours, friends and family, but things are not heated and low-key. Most people I know of don't care, so I predict a low turnout this time.
Why did Trudeau call an election now? Trudeau must be tired of compromising with the other parties (before this term, he had five years of majority rule where he didn't have to rely on them). The timing of the election is puzzling, but I am guessing he calculated his popularity is at its peak. His forecasts might have circumstances (economic, Covid) not getting any better next year. While it may not look well-timed now, Quebec, Alberta were out of Covid lockdown when he called elections in early August, and things were opening up in Ontario. Cases were going down, and vaccination rates pointed in the right direction. Those were sunny days.
Polls aren't predicting what he wanted: a majority government. Instead, he is likely to get another minority (his 3rd consecutive term). I don't expect it to last a year before the opposition gives him a no-confidence and votes him out. Next year this time, we might have another election, and the chances of Trudeau getting back then would be near zero (I can't see Canadians giving him another term).
When Trudeau won in 2015, defeating Harper, he got a rare majority government and near 40% of the votes (polls have him at 31% today). He made a lot of promises many of them he kept (most famously marijuana legalization, carbon tax, 50:50 male:female representation in his cabinet). He also handled Trump's presidency well (especially tariffs and NAFTA renegotiations, although a lot of credit for that goes to Deputy PM Freeland). Finally, I give high marks to Trudeau's patient, persistent, and firm response to the COVID pandemic.
But it isn't all roses with Trudeau. Ethical issues like his family's close ties to the WE Charity that was about to get a $912 million government contract raised doubts about corruption and competence. As well, the inappropriate pressure his office applied to the attorney-general for leniency in the SNC-Lavalin bribery case for political reasons (SNC-Lavalin threatened to move their 9,000 worker company from Quebec to elsewhere) betrayed poor judgement.
I don't know much about Conservative Party PM candidate Erin O'Toole or what promises they are making. I know more about NDP's Jagmeet Singh, although their promises are unrealistic and require a blank check (they are the 3rd major party that has never governed Canada).
Here are some of the things that I care about:
A greener environment with fewer plastics, less human waste, price on emissions
Affordable childcare
No privatization of healthcare
Less secretive governing
Smaller budgets (waste less on Defence, bad IT projects)
The biggest issue with the Conservatives is their core supporters are in the oil money-dependent province of Alberta, so I can't see how they will do anything about a greener environment. On the other hand, Trudeau's Liberals and I align on most of these. They aren't perfect but the best option we have. So I think Canada will be better with him as a Prime Minister, but does he deserve another 5-year majority rule? I am not sure.
---
Jul 22, 2021
I biked for about 2 hrs recently, and here are some things I remember about it.
Michelle on the walk
Biking on the sidewalk just past McDonald's near my house, I met Michelle Chen (my friend's aunt). I waved at her as I passed her. It took a few seconds for her to complete the facial recognition (I don't think she has ever seen me on a bike with a helmet), but she did wave back.
Michelle is our travel inspiration. Before the pandemic, she would show us videos of her world travel over Thanksgiving dinner at her place and tell us stories. The last time we had such a gathering, she mentioned they were going to Las Vegas for the week before Christmas. So before the dinner was over, I had booked our first Las Vegas trip to join her group. There is magic in her turkeys.
New Kennedy Station
On the downside of the bridge near Rainbow Village (twin red 17 storey buildings where I used to live), I saw the nearly finished new Kennedy Station for the upcoming Light Rail Transit(LRT). It is a modern see-through glass-walled structure that will open to the public in 2022. This station is the first stop in the subway for Scarborough. It also connects to local buses, inter-city trains (GO Transit), and the ageing but special Scarborough-only overhead trains. I like train rides. I have gone on streetcars just for the journey.
Chan Chey
At the beginning of the bike trail, just past the silly walk section1, a group of people were walking ahead of me. The little girl in the group was the first to notice me on the bike as I got close. She yelled out Chan Chey (bike in Cantonese) to her family and quickly got everyone to move to the right side of the trail.
Father, daughter roller skate
As I got to Jack Goodlad park, a girl was learning to roller skate with his father next to her. She lost her balance and fell, and the father started to pull her up. She said "No No No" loudly, clearly not quite ready yet. Both father and daughter were laughing throughout this awkward situation.
Community Garden
Crossing Kennedy Road and into The Meadoway, the first thing I see is Givendale Allotment Garden. It is a city-managed community garden where people get a small section to grow whatever people tend to grow in their backyard, except this is in a public space.
There are many like this along The Meadoway. When I bike past them, I slow down or stop to observe what goes on in there. I once saw a man carrying a large squash from one of these community gardens to his apartment nearby.
Father, son both in bikes
Further along, I stopped next to a father and son both on bikes at the Warden Avenue crossing. The son's helmet had a pointy thing on top like a shark fin. After crossing the street, he started accelerating and told his father to race me! race me!.
Cricket
The Meadoway is mostly a bike/walking trail with not many people around but it gets more lively at Wexford Park.
With the hydro tower as a backdrop, a group of boys played cricket with a tennis ball. They had a proper pitch and wickets. I stopped to watch an over of live-action. I was expecting slower than medium-pace bowling and less than athletic fielding given the casual game setting, but I was pleasantly surprised.
The bowling was faster than I expected, and there was only one wide ball in that over. The batting was good (no one got out), but the biggest surprise was the fielding.
The fielders (some with grey hair) got to the balls in time, didn't fumble, and made very accurate throws back to the wickets. What was even more impressive was the fielders covering behind the bowler or wicket-keeper when the throws came in. These weren't street cricketers like me. They were good.
Adele lookalike (younger version)
After crossing Victoria Park Avenue, I rode past a young lady walking her dog. She looked like a young Adele (the singer). Shortly after that, the bike trail ended at Eglinton Avenue, and I turned around to back. Yes, I did see the young Adele lookalike again.
Shred Here Now
On the way back, the last thing I remember was a delivery truck container permanently parked in a commercial area with the words Shred Here Now2 and a phone number on the side. I have no idea what it was trying to advertise to people walking or biking along the trail. My first thoughts went towards the crime/drama themes.
---
Someone posted signs on the bike/walking trail that said you have to walk silly between the start and stop signs. ↩
---
Apr 18, 2021
Mark Wiens Quotes
I have been an on-and-off fan of Mark Wiens' food videos. Last summer, the wife and I watched every video in the Round the World Trip for Food playlist, where he travelled to nine cities in Asia, Europe, and the US in about a month. He started in Bangkok, then Mumbai, Muscat, Istanbul, Rome, Stockholm, Barcelona, Lisbon, New York City, Hong Kong, and back to Bangkok.
We watched one video a day, so it took us weeks to watch all 39 videos. It had all things we like about his videos: We travelled virtually to new places with him and learnt about the food in those places, but what I enjoyed the most is his description of the food, the eating experience, and his expressions as he tastes them (sometimes, when I enjoy the food, I copy his signature head tilt too).
When I give a spoonful of rice to my kids, my mouth opens up as well. I have noticed this with others too. If I enjoyed watching him travel and eat, imagine how it would be doing it in person. His videos make me hungry for food and travel, especially to places like Thailand where I haven't been. Before the pandemic, we had plans to visit Europe for 2020, and I had plans to visit India in 2021. It has been long.
Anyways, back to Mark Wiens. My son Aiden was watching a Mark Wiens video with us one day. Aiden also has a YouTube channel where he shares videos of him playing video games with his friends, including live commentary. I asked him to work in Mark Wiens's quotes in his next video. He agreed. So I wrote down all the interesting Mark Wiens quotes from the video we were watching.
These are the quotes:
Say Hello
This is a huge production
Almost ridiculous
Oh, Wow!
So good
That's the life-changer right there
Amazing Day
Oh, that's good too
Ultimate Best
Unbelievable
Awesome
Oh, Man!
Get ready
That will change your life
That's style man
Loosen the belt
Incredibly Special Day
I am going to take you and me to ____
In the basket
That is all you can ask for
Oh, that's insane
That's a game-changer
That's absolutely incredible
Things are really starting to heat up
I can't wait
Absolutely insane
To help Aiden work these into his commentary while playing Minecraft, my daughter Adele and I wrote these into pieces of paper and showed him one by one. He did manage to improvise all of them into his video, but many got cut in the editing.
Watch it yourself and see if you can figure them out. Enjoy!
---
Mar 05, 2021
When WHO made Covid-19 a pandemic, the world started taking it seriously with lockdowns, social distancing etc.
Canada swiftly went into full lockdown mode while others took more time, and when they eventually did, people didn't cooperate.
I only know about three countries: Canada (where I live), India (where my parents and brothers live), and the US (because of the conman-who-was-president).
The population of Canada is 38 million, India is 1,374 million. For every person in Canada, you have 580 sq. meters of space. An Indian gets 50 sq. meters. [wikipedia]
India has 37 parties in the Lok Sabha, Canada's House of Commons has 5.
Indians are more social than Canadians. Things in Canada are more computerised, requiring less human interaction.
India makes Covid-19 vaccines; Canada doesn't. India doesn't have universal tax-funded healthcare like Canada.
You get the point.
I don't hear people in India complaining about Canadians, but I listen to people in Canada (mostly from India) complain about India's people.
First, it was about India not being effectively locked down, and then it was about people not social distancing, then about not wearing masks, then about the competency and pricing of the medical system, and now it will be about people in India being hesitant to take vaccines.
People in India are well equipped to decide on their own. They have their unique circumstances. If I sent one of those Canadians (from India) back, they would do the same as everyone else in India.
Of course, I think social distancing, wearing a mask, and vaccines are a good idea, but my father doesn't need me to tell him this. He never asked.
The day I can give him a glass of water and be there for him in person, I will provide him with unsolicited advice on how to take care of himself.
---